If oak and smoke is your thing, you'll probably love Michter's Toasted Barrel. Otherwise, it's a little too smoky for my liking, but is an interesting sip nonetheless. It's a fun experiment in secondary aging without adding foreign flavors.
So I've had this bottle of Michter's Toasted Barrel Finish Bourbon sitting on my bar for a few months.  I meant to get around to opening it when it was still a relatively new release, but I just never got around to it.  As a bourbon blogger, having 65+ open bottles at any given time is often as much of a headache as a pleasure.
That's not true.  It's awesome.  Everyone should do it.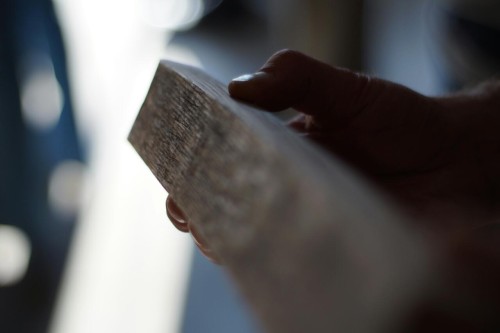 Anyway, Michter's Toasted Oak is a once-a-year limited release bourbon that starts out as Michter's US*1, and is then re-aged in barrels made from staves that are air dried for 18 months and then toasted, but not charred.  The result, Michter's claims, is a bourbon bursting with notes of "Campfire and cinnamon, with pecan and candied fruit. Lingering finish of baked pears, vanilla, and marshmallow."  I'll be the judge of that.  It is barreled at 103 proof, one of the lower barreling proofs in the industry, that allows the finished product to be brought down to a reasonable 91.4º by adding only minimal water, which Michter's claims allows a more full flavor bourbon at a  lower proof.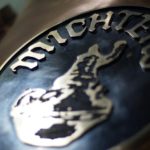 Before I go any further, I would be remiss to fail to mention the elephant in the room here amongst bourbon geeks and bloggers that is Michter's as an organization.  While Michter's has recently opened a distillery in Louisville, they began as a non-distilling producer, sourcing their whiskey from an unnamed distiller most likely located in Louisville as well.  And the name Michter's is not their original creation, but one they essentially "assumed" as a dormant trademark, along with others from the former Bomberger's Distillery in Pennsylvania..  The result of that led to a somewhat highly publicized and heated legal battle between individuals in Pennsylvania who felt they had a legal claim to many of the trademarks and the new owner of the labels, Chatham Imports.  Both sides drew up battle lines, and a number of bloggers and whiskey geeks readily took sides.  In the end, Chatham and Michter's essentially won out.  But that doesn't mean that there aren't still enthusiastic persons on both sides of the debate roaming around the interwebs.  I didn't take a side in that, and don't intend to.  But I likewise won't try to convince anyone who loves the new Michter's that they shouldn't, nor would I tell someone who felt the opposite that they should abandon their ideas and embrace the corporate nature of the bourbon industry today.  I'm just going to comment on the bourbon.  I encourage those on both sides to express themselves in the comments section below, and those who just want to discuss the whiskey in the bottle to do the same.
Michter's Toasted Barrel Finish Vital Stats
Packaging:
Toasted Barrel is bottled in the same bottle the rest of the standard lineup.  The labels are paper, and are cream with dark blue and red accents.  It's attractive, though it's not a massive standout on a bourbon shelf.  And there is very little on the bottle, aside from the color and tiny lterring, to denote that this is the limited release version, and not standard US*1.  I'd have plastered "Michter's Toasted Barrel" or something in much larger type.  But I quibble.  It's fine.
Appearance:
Deep brown, almost muddy, but there is very little sediment in the bottle, as something called "Toasted Barrel" might imply.
Aroma:
I expected this to be heavy on the deep, cocoa and oak like a Woodford Double Oaked, but it's actually a light, sweet smell on the nose.  There are vanilla hints, some floral notes, and the wood takes the form of smoke and light oak rather than the chocolate and cocoa of the Woodford Double Oaked.
Taste:
This hits the front of the tongue sweet, with notes of vanilla, honey, and spices.  But as soon as it hits the mid palate, the wood kicks in.  It's a smoky, oily oak similar to what I've found in Forged Oak and some older bourbons, and it carries straight through the rest of the palate, dominating it.
Finish:
Again, this is about the toasted oak.  It's a smoky, bitter, extended finish with hints of leather and tobacco.
Synopsis:
This is the second offering of Toasted barrel Finish and I found this one to be slightly more oily on the palate than the first, but a little dialed back in terms of the wood flavor, which is saying a lot because this is HEAVY on the toasted oak.  If oak bombs are your thing, you'll probably like this.  I can safely say that the first time I opened this bottle was after drinking half a bottle of the new Maker's Private Select that was an exceptionally sweet and approachable bourbon, and the contrast made this tough to enjoy.  The following night, however, I went straight to this, and found it much more enjoyable without the sweet wheater in front of it.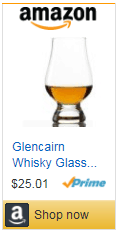 I think this is more of a unique kind of "special interest" bourbon.  It is too woody for my liking as a regular sip, but it's an interesting exercise in barrel finishing without "adding" flavor such as port or wine (in case you didn't know, I do not much like bourbons finished in barrels that once aged other spirits).
However, I would say that if you're really interested in finding out how barrel finishing with only different types of wood affects a whiskey, look towards the Maker's Private Select line as it begins to hit retailers.
As for Michter's Toasted Barrel, it's a little too one dimensional for my enthusiastic liking, though it has enough merit to be worth a sip.  The real question is: Do I like it?  the answer is really no. It's too woody for me, which was the point of it in the first place, right? I do appreciate it, however, and I think a lot of bourbon geeks will too.
ModernThirst.com Score: 86 out of 100 points.
*Click here to read about our scoring system*