Rebel Yell Single Barrel
If you're a fan of wheated bourbons, this may be the best value on the shelf to find a wheater with some age bottled at a respectable proof. Luxco could have gone many different ways with this one, but it seems they made all the right choices. Well worth a sip, especially at the price.
Rebel Yell Single Barrel Stats
Producer: Luxco (Sourced)
50% ABV (100°)
Mash Bill: unstated, assumed to be Heaven Hill standard wheated bourbon mash bill: 68% Corn, 20% Wheat, 12% Malted Barley
Barrel Char Level: #3 (Assumed)
Age: 10 Years
Availability: Limited, One-Time release
MSRP: $49.99
Barrel # 4744359
Distilled: 09/2005

What it is
Rebel Yell is a wheated recipe bourbon which traces its lineage back to the hallowed halls of Stitzel-Weller Distillery, original home of the Weller and Van Winkle lines of bourbon.  The brand was created in 1949 as a small batch bourbon to market to Southern States.  Today, it is owned by Luxco, and sold nation-wide.
Luxco is currently an independent bottler, or non-distilling producer (NDP).  That means they don't actually distill their own spirits- they buy them from other producers, or contract with them to produce it to their specifications, and bottle it under their own labels.  Luxco has been around since the mid 20th century, so they're no Johnny-Come-Lately trying to cash in on the bourbon boom. Aside from Rebel Yell, they own various other well-known labels such as Ezra Brooks and Blood Oath.  And to further cement their status in the industry, they recently broke ground of Lux Row Distillery in Bardstown, KY.  When that goes live in Q4 of 2017, they will move from the ranks of NDP to full distiller, joining Willett in that regard.
One of the least kept secrets in the industry is that the source of most or all of Luxco's bourbon is Heaven Hill.  The Shapiro family (owners of Heaven Hill) and the Lux family (of Luxco, obviously) have been close knit for decades, and the two have maintained a partnership of sorts between their brands for most of that time.  So when the Shapiro family told Luxco they foresaw a time in the near future when they may not have capacity to keep up with their own labels, let alone distill for other companies, Luxco moved quickly to break ground on their own plant.  Until then, we can expect their whiskeys to continue to be sourced all or in part by Heaven Hill.
This new Single Barrel variant is a limited release offering of 10 year old, 100 proof wheated recipe bourbon.  Given the Heaven Hill DNA here, I would expect it to be similar to the Old Fitzgerald Bottled-in-Bond with more age, or a hotter Larceny.  The suggested retail price is $49.99.  I tasted this whiskey back in July at an event hosted by Luxco in St. Louis, and then again at the name release for the new distillery.  While I enjoyed it, neither atmosphere was conducive for a full review.  This bottle was provided by Luxco free of cost with no strings attached for a review.
Packaging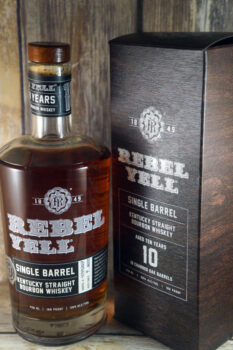 Rebel Yell comes in an attractive box with plenty of information about the brand, and very reminiscent of the Jack Daniels Barrel Proof Single Barrel box.  While the packaging often mentions 1849, which is the founding date for the W.L. Weller & Sons distillery, this brand and its label were much later creations- by a century, to be exact.  The recipe was the same as the other W.L. Weller products at the time, which is where the 1849 date is derived.  That's misleading, and entirely unnecessary. The bottle is a standard Rebel Yell round bottle with screen printed label and real cork.  The barrel number and distillation year are handwritten on the label.  It's a very nice overall presentation aside from the reference to 1849.
Appearance
Deep golden amber when poured into a Glencairn.  It reflects plenty of age and barrel characteristics.
Aroma
Tobacco, sweet vanilla, oak, and caramel greet the nose.  Some sugary simple syrup and circus peanuts are brought out with a splash of water, but the age is evident on this one.  The Heaven Hill DNA is on full display.
Taste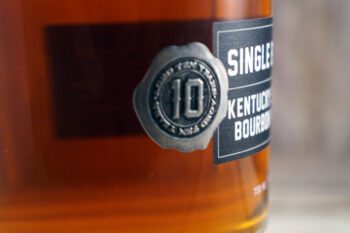 The initial sensation is all caramel and vanilla on the tip of the tongue, but it quickly morphs into lots of well aged oak and earthy leather flavors on the mid palate before returning to a mixture of oak and corn sweetness on the rear palate.  With water, some of the leather flavors are muted in favor of more flowery sweetness and lots and lots of oak.
Finish
A definitely viscous sip, this is a long finish, but not overly so.  The barrel tannins return at the tail end, turning just a tad bitter before dissipating.  But the leather notes linger for quite a while intermingled with baking spices, cloves, and cinnamon.
Synopsis
This is a really nice little sip.  I love the proof.  Too often, older barrels are watered down to eliminate an overdose of oak, but this one didn't need it.  It's right on the cusp of being over aged, which nearly rears its head on the finish, but it manages to stay just below the age threshold.  Ultimately, there can be no doubting the similarity of Old Fitzgerald Bottled-in-Bond from Heaven Hill.  This is the same juice, aged another 5-6 years or so.  And considering I drink as much Old Fitz bonded as anything, that's a tongue-pleaser for me. There are very few opportunities to taste wheated bourbons with any semblance of age on them these days unless you happen to run across a Weller 12 Year or one of the Van Winkle bottles.  And there are even fewer opportunities to taste those aged wheaters anywhere north of 90 proof.  At $49.99, I'd say this is under priced in today's market, and this is well worth the pickup.
If you like the wheated mash from Heaven Hill, you will like this.  As it stands, it's my favorite Luxco product to date.
ModernThirst.com score: 90 out of 100 points.