RUssell's reserve Single Barrel Rye
Rye-forward with plenty of depth of flavors behind it, this is an excellent expression of Wild Turkey's Rye mash bill, and well worth the step up in cost from the 6 year small batch.
What it is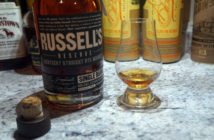 Russell's Reserve Single Barrel is essentially a higher proof single barrel offering for stores and restaurants to select barrels of Russell's Reserve Rye and Bourbon for purchase.  In this case, we're taking a little trip with the newest of the lineup, the Russell's Reserve Single Barrel Rye.  Unlike the standard Russell's Reserve Rye (Small Batch), this is bottled at 104 proof and as a single barrel, will vary a bit from each bottling.  Though there is no age statement on the bottle, we are told these are a minimum of 6 years old, but will likely be closer to 8 for most selections.  This was selected by Liquor Barn in Louisville, KY.
If you've been a reader for long, you'll remember we didn't much care for the small batch offering of this rye whiskey, but we liked the 10 year small batch bourbon, and we really liked the 10 year old single barrel bourbon.  So I was intrigued to finally get around to reviewing this single barrel rye, as the general press has been positive.
Russell's Reserve Single Barrel Rye Vital Stats
◾Distiller: Wild Turkey, Lawrenceburg, KY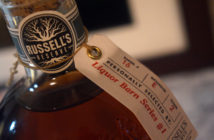 ◾ABV: 52% (Proof: 104º)
◾Mash Bill: 51% Rye, 37% Corn, 12% Barley Malt
◾Barrel Entry Proof: 114 (unconfirmed)
◾Barrel Char Level: #4
◾Age: Minimum 6 years
◾Price Paid: $69
◾Liquor Barn Series 1, Barrel #16, Rickhouse E, Floor #2
◾Availability: Barrel Select
Appearance
Light Amber
Nose
Black Pepper Rye spice is the clear dominant note here, but beneath that are hints of light fruits, simple syrup, and graham cracker.
Palate
Once again, there's lots of black pepper and rye spice that hits the outer periphery of the tongue with a vein of sweet candied fruit and syrup down the middle of the palate.
Finish
This is a slightly long finish, and it's very pleasing.  The rye kick continues, but it gives way to lemon zest, orange bitters, oak, and vanilla.
Synopsis
Where the 6 year small batch version of this  falls short into a one dimensional disappointment, this single barrel ticks all the right boxes.  The rye is on clear display, and this does not drink like a spicy bourbon, as do so many other rye whiskeys produced by bourbon distillers.  It's light on the palate, but full of depth and rye goodness.
ModernThirst.com score: 91 out of 100.