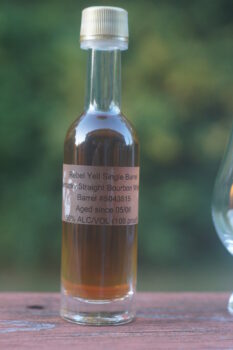 If you have been reading this site for a while, you already know what big fans we were of Rebel Yell's Single Barrel bourbon released in 2016.  In fact, it was my favorite release of the year.  It scored a healthy 90 points in our review, and the more I sipped it through the two bottles I managed to find, the more I liked it.  It was with a near gleeful squeal that I opened a sample package from Luxco's PR team to find a sample of the 2017 version of the same whiskey.
I mean that.  I kinda squealed.  I'm not proud of it.
The stats are virtually the same as last year's with the exception of  a $10 hike in price.
2016 Rebel Yell Single Barrel Review:

ModernThirst reviews and rates the forthcoming limited release of Rebel Yell Single Barrel, a 10 year old wheated bourbon from Luxco.
6 comments
From the 2016 review:
What it is

Rebel Yell is a wheated recipe bourbon which traces its lineage back to the hallowed halls of Stitzel-Weller Distillery, original home of the Weller and Van Winkle lines of bourbon.  The brand was created in 1949 as a small batch bourbon to market to Southern States.  Today, it is owned by Luxco, and sold nation-wide.

Luxco is currently an independent bottler, or non-distilling producer (NDP).  That means they don't actually distill their own spirits- they buy them from other producers, or contract with them to produce it to their specifications, and bottle it under their own labels.  Luxco has been around since the mid 20th century, so they're no Johnny-Come-Lately trying to cash in on the bourbon boom. Aside from Rebel Yell, they own various other well-known labels such as Ezra Brooks and Blood Oath.  And to further cement their status in the industry, they recently broke ground of Lux Row Distillery in Bardstown, KY.  When that goes live in Q4 of 2017, they will move from the ranks of NDP to full distiller, joining Willett in that regard.

One of the least kept secrets in the industry is that the source of most or all of Luxco's bourbon is Heaven Hill.  The Shapiro family (owners of Heaven Hill) and the Lux family (of Luxco, obviously) have been close knit for decades, and the two have maintained a partnership of sorts between their brands for most of that time.  So when the Shapiro family told Luxco they foresaw a time in the near future when they may not have capacity to keep up with their own labels, let alone distill for other companies, Luxco moved quickly to break ground on their own plant.  Until then, we can expect their whiskeys to continue to be sourced all or in part by Heaven Hill.
Rebel Yell Single Barrel Stats
Producer: Luxco (Sourced)
50% ABV (100°)
Mash Bill: unstated, assumed to be Heaven Hill standard wheated bourbon mash bill: 68% Corn, 20% Wheat, 12% Malted Barley
Barrel Char Level: #3 (Assumed)
Age: 10 Years
Availability: Limited, One-Time release
MSRP: $59.99
Barrel # 5043515
Distilled: 05/2006

Appearance
Like the 2017 release, this is very dark, showing its age and the barrel influences.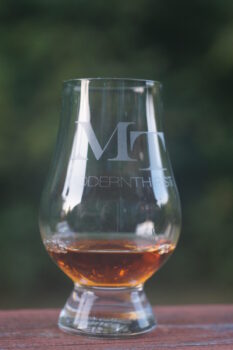 Nose
While every barrel of a single barrel bottling is going to differ, I didn't expect the pop of sweet cinnamon red hot on the nose.  It's a very enticing aroma, and is backed up by simple syrup and a very Heaven Hill-esque bubblegum.
Taste
The initial sip is very sweet, with vanilla, simple syrup, and caramel followed closely by a chocolate/cocoa note that splits the center of the palate.  There are coffee notes, and the final sensation is coffee cake and brown sugar.
Finish

A fairly long experience, the cinnamon makes a reappearance here, lingering with vanilla notes and an appearance of oak and spice, including black pepper.
Synopsis
I was excited and apprehensive on this one.  I wasn't sure how this would live up to the 2016 bottle I reviewed last year.  I am pleased to say that this not only matched last year's bottling, but it surpassed it with its cinnamon sweetness and enticing nose.  Where last year's bottle was oaky and packed a wallop, this one is sweet and syrupy with loads of wheated goodness.  Where I would have compared last year's release to an oakier Old Fitzgerald Bonded bottle, this one is more similar to a hotter Very Special Old Fitzgerald with the simple syrup and bubblegum.  Rebel Yell Single barrel is once again a solid buy…if you can find it.  It's a solid contender for a second straight whiskey of the year from ModernThirst.
ModernThirst.com score: 92 out of 100
Rebel Yell Single Barrel 2017
Luxco had a tall order on their hands. With the bar they set with the 2016 release of Rebel Yell SIngle Barrel. They hit their mark and then some with the 2017 follow-up. It's rife with cinnamon sweetness and pleasant simple syrup goodness.