2017 Parker's Heritage
Classic Heaven Hill flavors with just the right amount of age makes this a powerful, but approachable bourbon. This is an excellent sip.
[amazon_link asins='B00H143UXW,B01K96AJ5U' template='ProductCarousel' store='modernthirstc-20′ marketplace='US' link_id='117c116a-9754-11e7-96b9-b9f07120178e']
What it is
Parker's Heritage was originally begun as a way for then-Master Distiller Parker Beam to showcase Heaven Hill's broad range of products, and allow the producer to display the breadth of their craft through annual limited releases. For a self-avowed fanboy of Heaven Hill products, this is usually the most anticipated release of the year around the ModernThirst compound.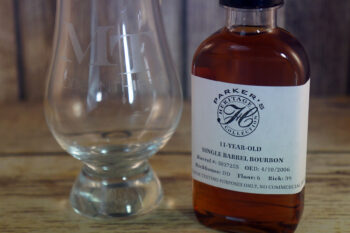 Parker always felt the single barrel programs at Heaven Hill were the highlights of the distillery's product range, and his introduction of those lines to the retail public was one of his greatest achievements. This year's release, the 11th in the series, Honors Parker, who passed away in January of this year after a long battle with ALS, commonly known as Lou Gehrig's Disease. Like the previous 4 releases, Heaven Hill will donate $10 for every bottle purchased (at a suggested retail price of $129.99) to ALS research.
Last year's release was 24 year old bourbon, and the two preceding years were a Wheat Whiskey and a Malt Whiskey, in 2014 and 2015 respectively. 2013 was a Kentucky Bourbon titled "Promise of Hope," which remains one of my all-time favorite bourbons. 2017 continues last year's theme as a Kentucky Straight Bourbon. This release is a single barrel bourbon selected from the upper tiers of Parker's favorite rickhouse located in Deatsville and bottled at 122 proof with no chill filtering.
2017 Parker's Heritage Collection Stats
Type: Kentucky Straight Bourbon
Format: Single Barrel

ABV: 61% (122º)

Mash Bill: Standard Heaven Hill Bourbon Mash Bill (78% Corn, 10% Rye, 12% Malted Barley)
Barrel Char Level: #3
Age: 11 Years
Barrel No: 5027255
Warehouse: DD (Deatsville), Floor: 6, Rick: 39
Availability: extremely limited
Suggested Retail Price: $129.99
Appearance
Deep, dark brown with hints of amber.
Nose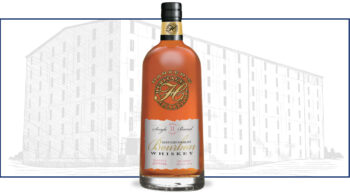 Tons of oiled leather right off the bat with slight notes of bananas and ripe plum and raisins. There is plenty of oak on this as well as warm peppery spices.
Taste
Big and bold, there is a vanilla sweetness right on the tip of the tongue that proceeds to coat the entire palate with viscous goodness. The outer palate gets plenty of black pepper spices, but the entire experience gets healthy dose of oak and tannins. There is plenty of ripe red fruit and black cherry.
Finish
Long, but smooth and pleasing, Parkers 11th goes out with a ton of oak, some dark fruits like raisins and red grape. The lingering black pepper seems to grow a bit after the swallow and rounds out a nicely delicate sip for such a robust bourbon.
Synopsis
This is Heaven Hill all the way. If you've had Elijah Craig Barrel Proof, some of the better releases anyway, you will be familiar with the general profile here. This bourbon seems to have aged much more gracefully, however, and is nicely mature without being over oaked. I wondered before tasting if the 122 proof was necessary. Why not just offer it at straight barrel proof? That question became moot in tasting, as it doesn't lack the viscosity or the fullness of flavor of a barrel proof bourbon. A few drops of water even  brought out a slight cocoa note.  I would have loved to get some of the bananas on the palate that I smelled on the nose, but that's quibbling. This is an excellent bourbon.  However, I wonder if I like this more, or how much more, than the Elijah Craig Barrel Proof B517, however, which is similar in age (12 years) and proof (124.2º).
ModernThirst.com Score: 92/100
*A sample of this whiskey was provided to ModernThirst by the producer with no strings attached.  The thoughts and opinions in this review are our own.