[amazon_link asins='B00P553P1Q,B01N5HU3CP' template='MT-product-carousel' store='modernthirstc-20′ marketplace='US' link_id='9df2d056-73a2-4428-a7db-271f5827fafc']
INTRODUCTION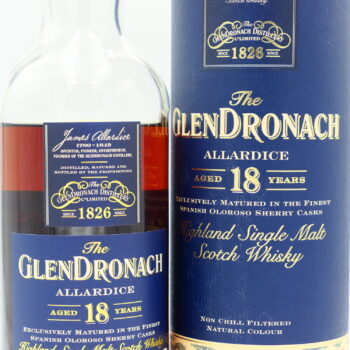 After a quick venture into the world of bourbon with the Elijah Craig Barrel Proof B519 review for Jeremy and I last month we are back today with our first GlenDronach review for ModernThirst.  We have tasted this 18-Year Old bottling on three different occasions now, and just this past weekend the Proper Pour Whisk(e)y Club had a five-year club anniversary and 50th tasting celebration – which included the Allardice as part of an amazing line-up.
I like what GlenDronach is doing with their whiskies – currently nine bottles from their range sit on my shelves and the GlenDronach 12 Year Old fills my scotch decanter as the go-to on a regular basis.  Our club has now tasted and rated four whiskies from the GlenDronach line with all scoring an 87 or higher.  First, a little background on the GlenDronach Distillery, and this bottling, before we see how this dram stacks up.
 BACKGROUND ON GLENDRONACH DISTILLERY and ALLARDICE
The GlenDronach Distillery was founded in 1826 by James Allardes (Allardice) in the Forgue valley in Aberdeenshire, Scotland  The source of water, the Dronac burn, would lead to the distillery's name.  After 170 years of production the distillery was mothballed in 1996 – and after a six-year hiatus – it resumed production in 2002. The largest American owned spirits company Brown-Forman (producer of such brands as Jack Daniel's, Old Forester, Woodford Reserve, Canadian Mist, BenRiach, Finlandia, and Glenglassaugh – just to name a few) purchased the distillery in 2016. GlenDronach falls just outside of the top 75 distillery operations in Scotland producing around 1.4 million litres of alcohol a year.
From the GlenDronach website:
The GlenDronach Allardice 18 Year Old is a fitting tribute to the founder of the distillery. Matured in fine Oloroso sherry casks from Andalucia in Spain, this richly sherried Highland Single Malt Scotch Whisky presents exquisite complexity, with dark treacle, allspice and walnut carrying on into the long, lingering finish.
I typically wait to read the tasting notes on a whisky until after I've tried it – then compare to see if I pick up the same elements. This time was no different – so let's see what we got in our nosing and tasting.
STATS
GLENDRONACH ALLARDICE 18 YEAR OLD
Mash Bill: 100% malted barley
Casks: exclusively matured in Spanish Oloroso Sherry casks
Age: 18 Years
ABV: 46% (92 proof)
Producer: The GlenDronach Distillery
Price: $145-$185 in US; cheaper from overseas online sites
Availability: readily available
SCORING NOTES
Notes for Jeremy and I are annotated below by the identifiers (JR) or (WJ).
As always – the notes you see below were written and the bottle scored prior to any discussion by Jeremy and me of what we nosed, tasted, or felt overall, about the dram in consideration.  We have spent time with this whisky on multiple occasions.
APPEARANCE
bourbon-esque in color – mahogany, dark
NOSE
rich dark fruits, sherried sweetness, cherry fruit filling, brown sugar, some tartness, bright not musty  (WJ);  frozen fudge bar, raisins, dark sherry, reduced balsamic cherry sauce, a bit savory (JR)
PALATE
nice viscous mouthfeel, toasted caramel sugars, figs, raisins, mid-palate spice, chocolate at end with some slight citrus and a touch of cinnamon spice (WJ); quite the sherry bomb, thick mouthfeel, nice richness moving over to savory quality, some spice, cherry chocolate fudge, drying (JR)
FINISH
medium plus in length, I like how this dram comes together – nice (WJ); long, cinnamon at the very end with maybe some tobacco, nicely drying (JR)
SYNOPSIS
GLENDRONACH ALLARDICE 18 YEAR OLD: The GlenDronach 12 Year is one of my go-to sherried scotches – in the decanter right now.  The older version of the 15 Year Old is a true joy (have a bottle of the new 15 Year bottling but have not cracked it yet).  So now to the 18 Year – it continues the trend of excellent whiskies from GlenDronach – a wonderful dram.  I think I may even like it better than the 21 Year Old but I need to compare them head-to-head blind a couple times (WJ).  I love the way this straddles the sweet and savory fence (JR).  The scores below reflect the averages of three different tastings.
ModernThirst.com Score:  92 (combined); 91 (WJ) and 92.5 (JR)
WRAP-UP
The GlenDronach 18 Year Old is an excellent dram – if you find it on the lower end of the price range it is one you need to add to your shelf.  How did our scores compare to the six tasters in the most recent PPWC club meeting – it received two 90.5 scores, two 91.0 scores, and two 92.5 scores for a 91.3 average overall.  Guess you can call this a definitive A- dram in our book.
This oloroso matured GlenDronach will not let you down – an excellent example of a sherried whisky. The entire GlenDronach lineup is worth checking out in our opinion.