Four Roses Single Barrel Limited Edition (2014)
ModernThirst.com's 2014 Bourbon of the Year.
If there is one word to describe this bourbon, it is simply this: Wow. This is a well-balanced, rich and flavorful bourbon.
[amazon_link asins='B00H143UXW,B016YPDI3A' template='ProductCarousel' store='modernthirstc-20′ marketplace='US' link_id='06fcabde-89a9-11e7-b0cb-753080d9149d']
Stats:
46.5% ABV (113 Proof)
Age: 11 Years
Distiller: Four Roses
Price: $100
Availability: Extremely Rare
Recipe: OESF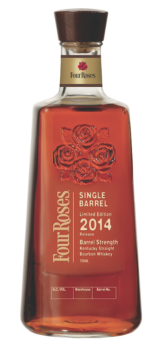 What it is:
This is a very limited edition single barrel selection of Four Roses bourbon chosen from one of its 10 proprietary bourbon recipes. Each year, master distiller Jim Rutledge selects one recipe and bottles a limited number for special release. This year, he chose 11 year old barrels of recipe OESF. It is barrel-proof, and non-chill filtered. At 46.5% ABV, it is a stout bourbon.
Amongst the most highly sought-after bottles of the year, these Four Roses Limited Edition offerings arrive on liquor store shelves and disappear within minutes. The focus of bourbon collectors and (to use an ugly term) "hoarders," this is generally one of the most popular collectible bourbons available on release. This year, only 5,000 bottles were released, making it the largest distributed of the single barrel Limited Editions, but still incredibly rare.
I tasted a sample, so I do not have a barrel # available, nor photos specific to my tasting.
Packaging:
The bottle for this release is identical to the standard single barrel releases. Instead of the printed label, however, the information is screen printed directly on the bottle. It is a very nice overall package, but is not a head-turner on a bourbon shelf.
Appearance:
Deep, pleasing amber. This is clearly high ABV and unfiltered.
Nose:
There is a sweetness evident immediately, with cinnamon and spice at the front. There is a touch of mint, and some heavy ripe dark fruit at the tail.
Taste:
This edition comes full force with caramel and vanilla, but follows it up with ripe red fruits including cherries and dark, luscious red grapes. The oak develops slowly at the swallow, but does not overpower the fruit. A big, bold, powerful bourbon, this Limited Edition never develops the intense spice promised on the nose, owing to the lower rye content of the "E" recipe. This is traditional sweet bourbon flavor.
Finish:
Long, sweet, and pleasing, the caramel and a touch of alcohol burn linger on and on after the swallow with a floral essence on the back of the mouth characteristic of many Four Roses offerings.
Synopsis:
If there is one word to describe this bourbon, it is simply this: Wow. Jim Rutledge knows his stuff, and his limited edition bourbons rarely, if ever, fail to deliver. This is a classic bourbon profile done to near perfection. I might hope for a touch more cinnamon spice on the tongue, if I were to nitpick, but that's not a major shortcoming. This is a well-balanced, rich and flavorful bourbon. I have become a huge fan of the Four Roses "E" recipes of late, and this is perhaps the best I've tasted.
One note: At retail, the 2014 Limited Edition Single Barrel offering ran right around $100. Around the same time of its release, various stores participated in the Private Selection program of Four Roses. One such store in Louisville, Liquor Barn, had bottles of Four Roses Single Barrel Private Selection Barrel Strength bourbon, aged 10 years and 8 months, recipe OESF for $53. In fact, that same combination can still, at times, be found at various stores around the country. We recently scored that Liquor Barn selection 94 out of 100 points.  So if you missed the Limited Edition release, or want a nearly identical bourbon for half the cost, you might search for an private selection OESF from local retailers in your area.
ModernThirst.com score: 95 out of 100 points.