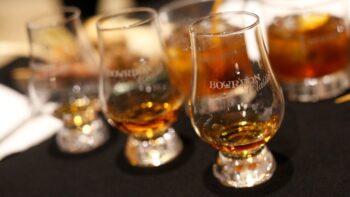 If you've followed us for a while, you know that one of the events we attend and cover every year is the Bourbon Classic.  It's held here in Louisville and has grown to become one of- if not the- premier bourbon "events" of the year.  In fact, the Classic itself and its related events have grown to encompass nearly an entire week of bourbon-related fun. There are a ton of tastings, pairings, dinners, and other related outings leading up to the weekend, but the two main events remain the can't-miss portions of the Bourbon Classic.
The Bourbon Classic Cocktail and Culinary Challenge is my personal favorite. It's the best collection of mixologists and chefs you'll find for a single bourbon-related event in the city, and that's saying something, as Louisville has become a bit of a culinary mecca.  But it's not limited to local flavor, as it isn't unheard of for chefs from Nashville or farther to come in town to create small plates for the competition as well. And then there's the the big kahuna. The Bourbon Classic TASTE.  That's the big gathering at the Center for the Arts with nearly every major (or craft) whiskey producer operating within a hundred miles of Louisville.  It's well worth the price of admission.
This year, ModernThirst will once again be on hand. All three of our regular writers (Wes, Matt, and I) will be in town for some pre-Classic tours and tastings, and even (hopefully) a big podcast with some friends on Saturday morning. We'll keep you posted of where we are that weekend on Twitter (@Modern_Thirst). If enough people are interested, we might even arrange a ModernThirst reader meetup!  So stay tuned.  In the meantime, tickets are on sale now, so if you're into bourbon, you should jump on board while they're still available.
To purchase tickets visit the Kentucky Center's website or call 502-584-7777 or 800-775-7777.
A look back at previous Bourbon Classic posts on ModernThirst.com: