Recently, I posted a short piece rating what I considered to be the best of the wheated bourbons that generated a lot of interest and a lot of responses. With that, and the news that 1792 will be  releasing a barrel proof bourbon,  I thought I'd follow up with another similar post- but this time I'd tackle those bourbons bottled the way God intended- at barrel proof.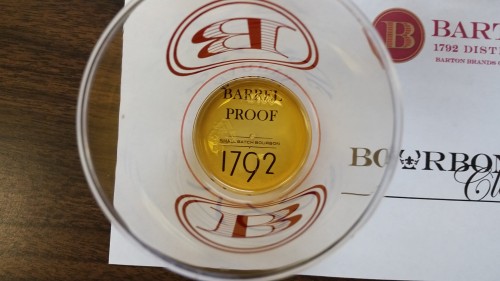 For a little perspective, there was a time I was obsessed with barrel proof bourbons.  I couldn't get enough of them.  Even to this day, if I'm opening the wallet for a limited whiskey, I prefer it be bottled at barrel proof.  That's not to say everyone should drink all their whiskey at 110º or higher, as I think adding a splash of water usually brings out more nuanced flavors in even the best barrel proof whiskey.  But I want to have the option to taste it before it's been watered down to proof.  For that matter, I want it filtered as minimally as possible.  Let me, the consumer, decide whether I like to drink it right out of the barrel or at a more approachable alcohol content.  I can always add water to a bourbon, but I haven't figured out a way to un-filter or "re-proof" it.  If anyone does, let me know.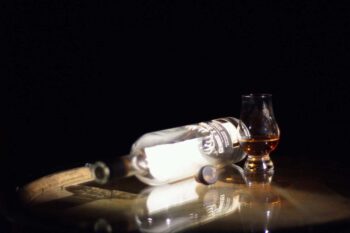 Anyway, it seems that barrel proof bourbons are all the rage, and I think rightfully so.  But there are relatively few barrel proof bourbons available on the market with regularity, which makes it tough to try many different kinds.  Some are one-off releases, like Willet's Family Estate single barrel releases, or various Parker's Heritage releases.  Some are extremely hard to find annual limited releases.  A few are regular releases, or at  least mildly attainable with a moderate level of searching around the time they hit stores.  For the purposes of this ranking, I will omit the one-off releases and tackle the regular release and annual release bourbons.  I'm also skipping rye whiskeys, wheat whiskeys, etc, because, well, this is a bourbon ranking and they're not bourbon, so using them is cheating.
I'm also eliminating several bourbons that are "styled as" barrel proof, yet are not- that includes Knob Creek Single Barrel and Old Grand-Dad 114.  *I also didn't include Angel's Envy simply because I haven't had the opportunity to try it enough to judge it.
Here are the players as I see them: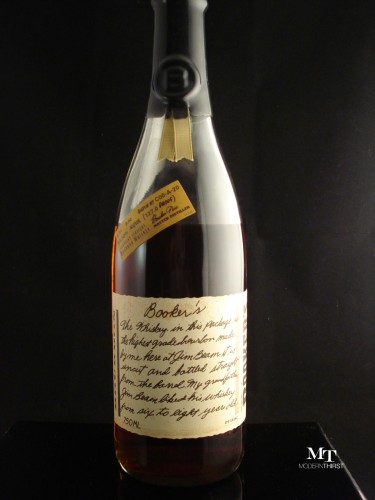 Booker's
Bulleit Barrel Strength
E. H. Taylor Barrel Proof
Elijah Craig Barrel Proof
Four Roses Private Selections (any)
Four Roses Small Batch Limited Edition
George T. Stagg
Maker's Mark Cask Strength
Stagg Jr.
William LaRue Weller.
Smooth Ambler Old Scout Single Barrel (any)
Here's my ranking, from best to worst.   Keep in mind, I don't think any of these whiskeys are bad bourbon.  In fact, I like all of them.  So I'm really judging varying levels of "good."
The Grandaddy of the barrel proofs, this annual release is part of the Buffalo Trace Antique Collection and can be as hard to find as any of the Van Winkle labels.  That's for good reason- it's excellent.  My favorite of the bunch was the 2009 offering, but I've yet to find one that isn't a fantastic explosion of flavor from the moment it hits the palate.
Another of the Buffalo Trace Antique Collection, this is the wheated offering from Buffalo Trace's annual limited release set.  This is also my unicorn bottle.  I've tried multiple releases, but I've never actually seen one in a store.  Sure, I've read about them in lotteries, or seen them at absurd secondary prices in various marketplaces, but I've never seen one in a liquor store at retail price.  Some day. I can dream, right?  If you're lucky enough to grab one, it's a sweet, creamy explosion of vanilla, sugary syrup, and cinnamon spice.
Four Roses never fails to deliver.  The 2013 Limited Edition Small Batch was as close to perfect as we've found in a bourbon, and the other years aren't too far behind.  They do vary a bit year-to-year, and the flavor profiles change according to the barrels and recipes chosen, but if you find one, you can be reasonably sure it will fall in the "Excellent" category.
Buffalo Trace brings a lot of entrants to the table for barrel proof offerings, and this seasonal release is the best of their "reasonably attainable" labels if a bourbon hunter is willing to put forth some effort.  It's got the sweet, clean profile of Buffalo Trace in spades, with the added heat and punch of 125+ proof.
Thus far, the barrel proof versions of Elijah Craig have not dropped their age statements from the rear label, and that's a good thing.  At 12 years old, this ranks as one of the older offerings in the list,* and it's chock full of barrel flavor and a ton of heat.  This, like most, can vary a bit from release to release, but has never failed to provide a great sip.  And at retail prices in the mid $50s, it's a steal if you can locate a bottle.
*Twitter user MontyinTexas has informed us that Heaven Hill has, in fact, removed the age statement on the most recent batch.  We are not pleased, Heaven Hill. Not pleased at all. Whew!  We hear it is still there!  Cancel the alarms!  Pitchforks down!
Again, Buffalo Trace knows its consumers want barrel proof choices, and the distiller doesn't fail to deliver.  Essentially a younger version of George T. Stagg, this lacks the refinement and completeness of its older sibling (or parent, given the suffix, right?), but it still hits the Buffalo Trace profile with a touch more bite than Stagg. It's usually around 8 years old, and worth a sip.  Again, it's also a great value when it can be had at retail (mid $50s).  This is definitely one where the releases vary in quality.  Some earlier bottlings should have come with HAZMAT warnings.
No barrel proof list would be complete without Booker's.  And Booker's should be high on every list if only because it can be found at so many stores without too much trouble.  The first, really, of the regular release premium bourbons to hit stores at barrel proof, this label has been gaining a lot more attention lately, and is a stalwart of most bourbon bars.  It's flavor, availability, and price (around $60) should make it a staple of any cask-strength bourbon drinker.
This is a hard one to really rank because it's a private selection, and can be any of 10 recipes.  But I rank it here because those 10 recipes are, frankly, all pretty darn good.  I'm partial to the OESF and OBSF bottlings, but the Q recipes from 2014-2015 were outstanding as well, with former Master Distiller Jim Rutledge telling me he thought they were some of the best bottlings to ever come out of his warehouses.
A new entrant to the list, Bulleit is currently produced mostly from Four Roses stocks, so it's essentially a batched version of the Four Roses private selections listed above.  It's 7-8 years old, according to my sources at Diageo, and has the unmistakable profile of Four Roses on the palate.
Answering the call for variety and higher proofs, Maker's Mark introduced its cask strength bourbon just a year ago to much hoopla.  It's a really nice step up from the standard Maker's Mark, and really brings forth the flavors and aromas that are sometimes hard to find in the lower proof standard bottling.  It's also the only barrel proof wheated bourbon that can be found year-round on liquor store shelves.  A common theme online is that it's "Maker's the way it ought to have been from the start."
This is a particularly hard bourbon to rank, and maybe I should have left it off the list.   This is probably more like Willett's Family Estate offerings in that they're all basically single barrel picks, and vary greatly from barrel to barrel.  But unlike Willett's releases, these all share the same source- MGP in Indiana.  Therefore, they're a lot more consistent than Willett's bottles, which could basically be from any distillery that had an extra barrel they were willing to sell.  Regardless, ranking this label last doesn't do it any justice, because some of their single barrel bourbons are outstanding.  The problem is that some are also pretty mundane.  So, really, they could fall almost anywhere on the list, depending on which bottle you open.  For me, they're generally in the lower 4 of these bourbons, but can be an eye popper with the right selection.
So what are your thoughts?  Did I miss any that should have been included?  Would you rank them differently?  Where do you expect the upcoming Barton 1792 Barrel Proof to wind up on this ranking?