[amazon_link asins='B00H143UXW,B00MV7DZP2,B016N1WZXO' template='ProductCarousel' store='modernthirstc-20′ marketplace='US' link_id='d221e4fc-8c23-11e7-b0eb-15d07ce9a6d3′]

*Updated October 2016
"Hey Bill, what are the best wheated bourbons I can buy?"
I got that message twice this week from readers, and that's not a rarity.  There can be no doubt that a certain 3-word label has greatly influenced bourbon and bourbon demand over the past decade.  But nowhere is the impact of the Pappy Van Winkle lineup more prevalent than in the trickle down effect it has had on other bourbons made with wheat as the secondary or "flavoring" grain.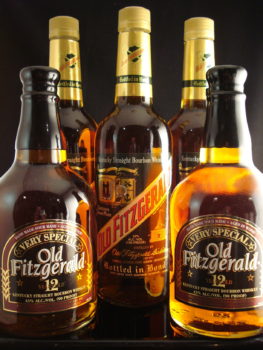 For the uninitiated, wheat used as a secondary grain was really pioneered at the old Stitzel-Weller distillery in Louisville, birthplace of the Weller lineup, the Van Winkle lineup, and the Old Fitzgerald Lineup.  Larceny and Maker's Mark can be viewed as offshoot descendants of that distillery due to the connections the labels have with those original three or connections the distillers had with the principal players in that distillery.  They all use a similar mash bill, and some reportedly even use yeast strains derived from the original Stitzel-Weller batch.
Wheat as the secondary grain provides a bit of a subtle, yet noticeable contrast to the traditional rye component of standard bourbons.  Wheat adds a creaminess to the mouth feel of the bourbon, and has sort of a prickly sweet flavor that is slightly lighter than the sweetness typically derived from the majority corn recipe.  Pappy Van Winkle, in his infinite wisdom, allegedly chose wheat in his recipe because he felt is matured more quickly, and bourbon could be moved to market at a younger age.  My personal opinion is a little different.  Really young wheat whiskey (4-5 years and younger) can be harsh and almost astringent, while rye-based bourbons tend to have a spicy characteristic that offsets that at a younger age.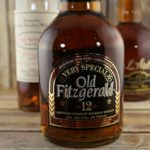 After a reasonable period, however, that flips for me.  Rye based bourbons aged longer than 12 years, in most cases, become far too woody, and they begin to become overpowered by the barrel flavors.  There are obvious exceptions, most related to older rye based bourbons that are bottled at a higher proof such as George T. Stagg.  But by and large, I find traditional bourbons aged past 12 years to be more often worse than their younger siblings (Elijah Craig is a good example).
Wheat bourbons are different.  After about 7 years, they start becoming nice sips.  At 12 years, they become really nice sips, and out towards 20 years, they can still be outstanding whiskey.  After 20 years, they, too, begin to deteriorate- and they do it quickly.  Hence, I find the 20 year Van Winkle offering to be a truly fine bourbon, while the 23 year is a mess in the bottle.  That hasn't stopped the collectors, however.  Anything wheated with even a hint of age is hard to find, and even some younger offerings have come to be so desired by the bourbon-buying public that you're better off giving up the chase if you don't follow release dates closely in some areas.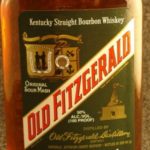 But what are the best wheated bourbons out there?  That's really a loaded question because there are two ways of looking at it.  The first is as a collector's item.   I don't collect, so secondary value is so worthless a determination to me that I couldn't even tell you a ballpark value of most bottles.  I drink bourbon.  So the second way to look at it is really what this site is focused on- how it tastes.  And THAT I can provide some help on.  It's really a question we get very often: What are the Best Wheated Bourbons?
There have been quite a few individual barrels of wheated bourbon released, or reportedly released over they ears.  I'm not ranking single barrel releases, or one-time releases.  So no Jim Beam Soft Red Wheat, none of the individual Willett bottlings, none of the Michter's  10 year bottlings that were(or were reported to be) wheaters, and none of the Buffalo Trace Single Oak or experimental  releases that were wheated.  That's not to say some of those weren't fantastic.  Jefferson's has released a few wheaters in their Presidential Select lineup that were great, as did Parker's Heritage.  But if they aren't regularly released with a wheated mash bill as a rule, they're one-offs, and not on the list.
The major labels are:
Maker's Mark
Maker's 46
Maker's Cask Strength
Larceny
Old Fitzgerald (80 proof)
Old Fitzgerald Bottled in Bond
Very Special Old Fitzgerald 12 year
Rebel Yell
Rebel Yell Small Batch Reserve
Rebel Yell Single Barrel 10 Year (added October 2016)
Weller 12 Year
Weller Special Reserve
Old Weller Antique
Van Winkle 23 year
Van Winkle 20 year
Van Winkle 12 year
Van Winkle 10 year
William Larue Weller (Buffalo Trace Antique Collection)
But that list has a problem:  Almost half of them are so limited in production or so high in demand that most readers will never see them a retail.  So let's divide them into two categories: Standard Production and Limited Release.
Here are my rankings the Best Wheated Bourbons in each category.  Where we have full reviews, scores, or tasting notes, I have included links:
ModernThirst's Comparison Reviews of Wheated Bourbons:
Standard Production:
Maker's Cask Strength
Old Fitzgerald (80 proof)
Rebel Yell Small Batch Reserve
Rebel Yell
Limited Release/Extremely Hard to Find:
Pappy Van Winkle 15 Year
Pappy Van Winkle 20 year
Old Rip Van Winkle 10 Year
Pappy Van Winkle 23 Year